Welcome to the future home of Contemporary Theology Online.
---




Provided by International Bible Society
---
"What is Contemporary Theology?" you ask.
Contemporary refers to something that is relevant for the here and now. Therefore Contemporary Theology refers to the theology that is relevant for today. Not discounting the theology of the past, but here we will deal with issues that are relevant today and show how certain issues of the past relate to today.
In the meantime, e-mail me with any theological issues that you would like me to deal with. I will either answer them directly or place them on this site, or both.
Come back soon to find topics dealing with Contemporary Christian Music, the Fantasy Phenomenon and other more serious and detailed issues.
Until then, God Bless.

Glyn.
---
WHAT OUR LOGO MEANS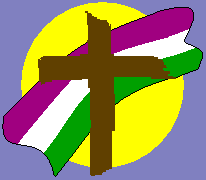 Cross: Represents the centrality of Christ and His death in our theology.
Rainbow: Represents the vertical and horizontal dimensions of the Christian Faith by bridging ourselves to God and our fellow man.
Purple Stripe: Represents the royal priesthood of God.
White Stripe: Represents the Holy Spirit and the purity of Christ and the Bride.
Green Stripe: Represents the Living Word of God growing in our hearts and minds.
Yellow Sun: Represents the glory and blessings of God shining down on us.
Blue Background: Represents the Living Water of Christ and our future hope of Heaven.